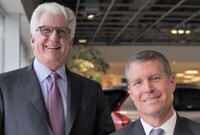 David T. Fischer      David T. Fischer Jr.

Chairman & CEO      President & COO



About The Suburban Collection
The Suburban Collection based in Troy, MI, offers an array of automotive solutions to retail and industry customers throughout Michigan and California.  The company's 70+ year commitment to customer service excellence is backed by a comprehensive selection of brand names, spanning 52 convenient dealership locations, AAA-approved auto repair,
Suburban Auto Parts
and eight Suburban Collision Center locations.
The Suburban Collection also operates three GM-Authorized accessory distributors and installers; Accessories of Michigan, Accessories of Florida and Accessories of Chicago. The company's Competitive Vehicle Services (CVS) division ensures that the latest vehicle models are always within reach of businesses that design and test the vehicle safety of the automobiles of tomorrow. The Suburban Collection also manages the fleet of historical General Motors vehicles as Global Logistics Services.